Arizona CDL Lawyer
Being a commercial driver comes with great responsibility. Commercial drivers must obey hundreds of state and federal laws specific to their professions. They have stricter safety requirements, lower legal blood alcohol concentration limits for DUI, and a number of other considerations to think about while behind the wheel. Breaking a single commercial driver's license (CDL) law can lead to life-changing consequences. Obtaining a Scottsdale traffic ticket lawyer could save your job because drivers could lose their licenses, their jobs, and future opportunities following an accident. Working with an Arizona CDL lawyer at the Corso Law Group will make all the difference in these cases in Arizona.
Traffic Offenses Involved in Arizona CDL Violations
Holding a CDL is a privilege and a duty. To obtain a CDL, a driver has to undergo specific training and pass a commercial driving exam. The Federal Motor Carrier Safety Administration (FMCSA) has strict rules in place that control who can get a CDL, and what can disqualify a driver from having one. Certain CDL violations can lead to disqualification of drivers – resulting in loss of employment as a commercial vehicle operator, which may have a major impact on the driver's life. Traffic violations that could lead to driver disqualification include:
Excessive speeding
Following too closely
Driving under the influence of alcohol (the limit is 0.04% for commercial drivers in Arizona) or a controlled substance
Leaving the scene of an accident
Using the vehicle to commit a felony
Driving on a suspended or revoked CDL
Causing a fatality through negligent operation of the commercial vehicle
Violating a state or local ordinance regarding texting and driving
Logbook violations
Operation above hours
Equipment violations
These offenses will only lead to CDL violations if the driver was operating a commercial motor vehicle at the time. Operating a personal vehicle and breaking a roadway rule will not affect a CDL in most cases. Disqualifications for serious traffic violations can be for life. It's important to protect yourself with a knowledgeable suspended license attorney in the face of a commercial driver's license violation. Your job and your future could be at stake.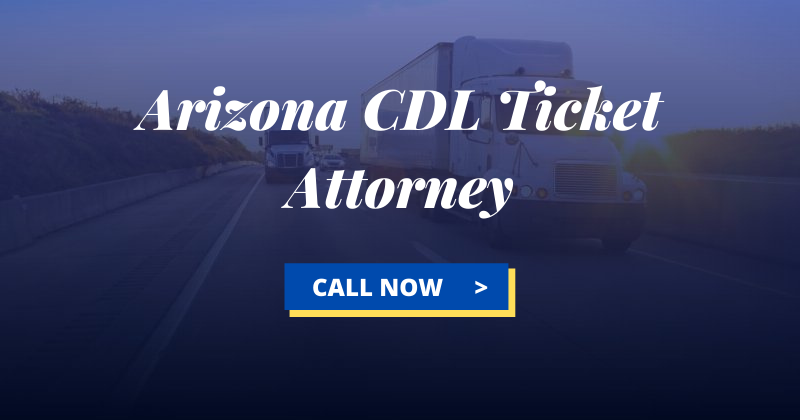 CDL Lawyers for Commercial Drivers in Arizona
At Corso Law Group, we have great respect for commercial vehicle drivers. We acknowledge the difficulty of these jobs, and the stress that is imposed on drivers daily. We have seen first-hand how easily it can be for a CDL driver to make one honest mistake that leads to CDL violation, suspension, or disqualification. The best way to protect yourself as a CDL holder in Arizona, is with legal representation after a violation.
The risk of CDL disqualification may change a driver's life. A driver can suddenly find themselves unemployable after decades of working as a commercial driver. Even a non-permanent disqualification can damage your driving record, leading to loss of contract opportunities, fines, and penalties from employers. If you committed a CDL traffic violation, or if police are accusing you of doing so, retain Corso Law Group. We can work with the Arizona courts in an effort to reduce your sentence or disqualification period. Contact us online or give us a call to speak with a high-quality CDL lawyer.
Client Testimonial
"If you are looking for a reasonable, caring and trustworthy law firm, Corso Law Group is the law firm you want on your case…"
-Ashley M.